Sometimes ago I've written about Analytix Pro on Caschy's blog and today I had to figure out that the update has swallowed the widgets. Too bad, really bad, because the widgets were one of the main reasons I liked the Analytix Pro app so well.
Although, the app has still great opportunities for analysis of your webprojects, it's useless for now, if you just want to have a quick look on your site's benchmarks. So I started to search again for an alternative and reviewed a couple of Android Google Analystics widgets. Those two, which fitted my needs at it's best, I like to present you today.
1. GAnalytics Widget
The first widget is the GAnalytics widget and which can be found here in the Market. It's free and ran flawlessly during my testing. On the home screen, it takes 2×1 tiles to complete. Unfortunately, it isn't optimized for other tile ratios.

What to do when the memory card or internal memory is full on you Android device? How to find the real nasty memory hogs? That's what the following article is about.
A few days ago I was confronted with the fact that my memory card on my Galaxy S2 was full. Unfortunately, I could not imagine what would consume so much memory, yet I was willing to to clear something up on a venture.
So there had to be an app. As always, I prefered a free one. And here it is – Disk Usage – my find of the day.
With DiskUsage you can visualize which folder uses how much memory. So you get a quick overview of where the real "memory hogs" are.
After starting the app, you must first select which storage medium has to be analyzed. You have the choice between the internal (device) memory and/the SD card(s).

Now that's success! I have just tested the vscreens app for Android and am really excited. But first things first.
vscreens is a free app from Sony Mobile Communications. But kindly runs on any device with Android (version 2.1 or newer needed) and not only on the Sony devices. With vscreens images and videos can be quickly streamed from your smartphone, simply and wireless, to any device that has a browser and an internet connection.
For this purpose, you have just to surf to www.vscreens.com, open the vscreens app on your Android device and scan the QR code on the target device. Then you select those pictures and videos from your smartphone you want to stream and they'll appear directly on the target device. If the target device and smartphone are in the same Wifi network that's going to be really fast. (But it will also work with your mobile internet connection.)
Those […]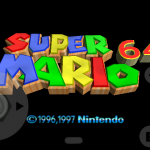 Are you one of those people who used to (or still do) spend hours, sitting in front of a game console? I for one was never the hardcore gamer and have only owned one console, but I loved my N64.
When I moved, I found some of my old N64 games and felt the need to once again play Super Mario World. Unfortunately it stayed with the discovery of the games. My N64 itself is gone without a trace.
Then last week I stumbled "accidentally" on a N64 emulator for Android. It's called n64oid and is apparently a bit longer on the market. But to me it passed so far.
Anyway, I got spend the $4.99 and have thrown me n64oid on my Samsung Galaxy S2. And what can I say? I'm excited!
Although it runs not all of the roms I tested […]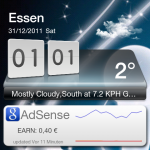 For some time I use Google Adsense on this blog. Ok, it's definitely not the big win, but a penny saved is a penny earned. But how to stay up to date on your Google Adsense earnings?
As an Android user I have of course searched in Googles Appmarket and was again disabused that free apps in many cases aren't inferior to paid apps  in any way. But let's get down to business.
The app that I like to show you, to overview your income, is called Adsense Dashboard and can be downloaded for free from the Android Market. Also aboard is a great widget which can be seen on the left-hand screenshot.
The main view of the app consists of four pages/panels. One with a total overview, one with a visualization of your click-through rates and revenue, one with the receipts sorted […]