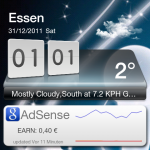 For some time I use Google Adsense on this blog. Ok, it's definitely not the big win, but a penny saved is a penny earned. But how to stay up to date on your Google Adsense earnings?
As an Android user I have of course searched in Googles Appmarket and was again disabused that free apps in many cases aren't inferior to paid apps  in any way. But let's get down to business.
The app that I like to show you, to overview your income, is called Adsense Dashboard and can be downloaded for free from the Android Market. Also aboard is a great widget which can be seen on the left-hand screenshot.
The main view of the app consists of four pages/panels. One with a total overview, one with a visualization of your click-through rates and revenue, one with the receipts sorted by your channel and one with a list-style overview.
All in all, the app offers a, in my opinion, really good overview on your Adsense revenues and is also free. A very clear recommendation on my part.
Do you use Adsense, too and if so, which App do you use? I appreciate your opinions and comments!