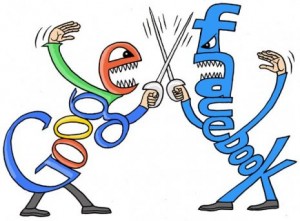 At first there was Facebook. But now there's Google Plus. And yeah, I like it. But what is a social network without contacts? Probably nothing. But who thinks, Facebook contacts can be easily transfered to Google, is on the wrong way.
For a short time there was this plugin for the Chrome browser, named Friend Exporter, which has taken over the job very well. However, this was quickly blocked by Facebook. But there is another way that I want to show you below.
How to export your Facebook friends and import them in Google Plus
The workaround to import the contacts works with the help of Yahoo mail. If you have no account there, then you can just create one here. It's free and takes less than 2 minutes.
You have a Yahoo mail account? Then you can just go on with the tutorial…
Log in with Yahoo Mail, and switch to the tab "Contacts" and click "import contacts".

Now click on the Facebook button and confirm that you want to share your Facebook friends with Yahoo Mail.

After the import is complete, you click on "Finish". Now you should see all your Facebook contacts in Yahoo's interface. Now click on "Actions" and then "Export All".

As export format you choose "Microsoft Outlook .csv (Comma separated values)" from the options.

Opens Gmail go to your contacts and click on the "More Actions" and then "Import".

Now select your .csv file which was generated by Yahoo.

That's it. Go to the kitchen, take a coffee or a beer and wait.
After you have all of your contacts added in Gmail now, you can use them easily on Google Plus. I hope I could help the one or the other of you. If you have any questions, write me a comment.
[Feature image from: http://mostviralmedia.com/blog]