Sometimes ago I've written about Analytix Pro on Caschy's blog and today I had to figure out that the update has swallowed the widgets. Too bad, really bad, because the widgets were one of the main reasons I liked the Analytix Pro app so well.
Although, the app has still great opportunities for analysis of your webprojects, it's useless for now, if you just want to have a quick look on your site's benchmarks. So I started to search again for an alternative and reviewed a couple of Android Google Analystics widgets. Those two, which fitted my needs at it's best, I like to present you today.
1. GAnalytics Widget
The first widget is the GAnalytics widget and which can be found here in the Market. It's free and ran flawlessly during my testing. On the home screen, it takes 2×1 tiles to complete. Unfortunately, it isn't optimized for other tile ratios.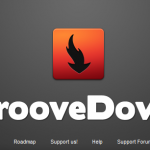 Just seen on Caschy's blog and instantly tested just for you – GrooveDown – a DownloadHelper for Grooveshark. For those who are not familiar with Grooveshark, here is a brief introduction:  Grooveshark is a mixture of Spotify and Youtube. It allows you to stream music without video, in good quality – provided by the users of Grooveshark and some music companies/labels.
You can download Groovedown from this site. But be careful during the installation process! You should definitely choose the "custom" installation, unless you are keen on a new homepage and default search engine in your browser. So just take the check mark off. (See screenshot below)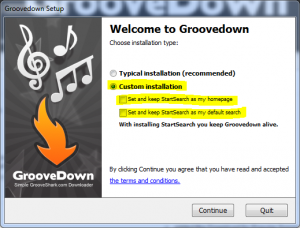 Once the installation is over, you can go on. Enter a search word, add songs to the download list by clicking […]
What to do when the memory card or internal memory is full on you Android device? How to find the real nasty memory hogs? That's what the following article is about.
A few days ago I was confronted with the fact that my memory card on my Galaxy S2 was full. Unfortunately, I could not imagine what would consume so much memory, yet I was willing to to clear something up on a venture.
So there had to be an app. As always, I prefered a free one. And here it is – Disk Usage – my find of the day.
With DiskUsage you can visualize which folder uses how much memory. So you get a quick overview of where the real "memory hogs" are.
After starting the app, you must first select which storage medium has to be analyzed. You have the choice between the internal (device) memory and/the SD card(s).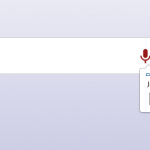 Since Apple's Siri voice recognition/voice control has again got back in focus of the crowd.  But Siri is far from being the only working voice control solution. There were already a number implementations before, some good some bad, and there is still far more than just Siri.
How you can "install" a voice recognition into your website with just one line of code, is what I want to show you today. The whole thing is based on HTML5 and is established as an  input element-tag.
And this is how it works:
<input type="text" x-webkit-speech />
Who wants to see the speech recognition in action, should go over there.  The only downside of this solution is the fact, that this speech recognition is far from cross-browser compatible. So at the moment it's only implemented in Google's Chrome browser. However, I could imagine […]

It's once againt time for a small update, so once again there is something new at this blog. At the top menu, a new item called "Shop" has been added. Yesterday I created an tiny aStore, that's how Amazon calls its custom shops.
Therefore the products are not from me but from various retailers. The shop here in the blog is basically an selection of items from the Amazon range, handpicked by myself.
All products in the shop are either owned by myself, so that I can recommend them with a clear conscience or they're products, which I think are worth to be recommend and relevant to one or more of my blog articles.
If you buy something, I get (on average) 5-10% commission of the selling price. With a purchase through the shop you can support me and my work. Among other things, the […]