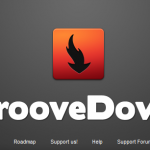 Just seen on Caschy's blog and instantly tested just for you – GrooveDown – a DownloadHelper for Grooveshark. For those who are not familiar with Grooveshark, here is a brief introduction:  Grooveshark is a mixture of Spotify and Youtube. It allows you to stream music without video, in good quality – provided by the users of Grooveshark and some music companies/labels.
You can download Groovedown from this site. But be careful during the installation process! You should definitely choose the "custom" installation, unless you are keen on a new homepage and default search engine in your browser. So just take the check mark off. (See screenshot below)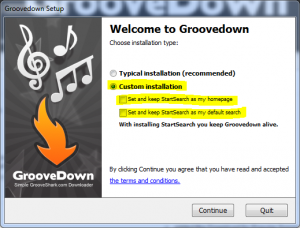 Once the installation is over, you can go on. Enter a search word, add songs to the download list by clicking on the "+" sign and wait until the downloads are finished.
So far, so good. The download speed is more than acceptable. But, however, there is still a need for improvement on the searchlist interface. The colored background of the choosen line, when passing the results, sometimes marks the wrong items.
Aside from these optical/minor defects and the somewhat opaque installation, Groove Down is nevertheless a handy piece of software and it fulfills it purpose all times.
And what do you think? Do you see it as a rival to my cloud downloader?