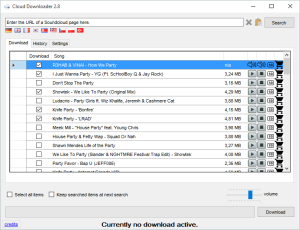 Since a couple of minutes the new version 2.8 of the CloudDownloader is available for you. At this point I would like to thank you for your numerous feedback that has been incorporated into the new version of Cloud Downloader.
In addition to a few bugfixes, the new version has mainly received your wishes and suggestions. I also added some small new features out of my head. You can see from the following list what has happened exactly.
As always, I look forward to your feedback. If you have ideas for improvements, just tell me!
Innovations and bugfixes in version 2.8:
Bugfix: The "/tracks" URLs work again in the search.
Bugfix: Songs from the homepage (https://soundcloud.com/) can be found again.
Upgrade: When a song (for technical reasons) can not be downloaded, it will be skipped and displayed at the end in a list. (Previously an error always stopped the complete download list.)
Upgrade: Album cover/artwork should now always appear in good resolution. (Also available on Apple devices.)
Upgrade: D3 tags now support newlines/linebreaks.
Upgrade: The search box was expanded by a "clear" and a "paste" button.
Upgrade: Update dialog improved. (Partial the links in the update message led on old versions.)
Feature: On request, the title can also be written in the ID3 tag album field. (Some players show the artwork only if the album field is filled.)
Feature: On request, HD downloads are now available in their original format (eg WAV, WMA, etc.). The downloader won't wrap any file as mp3-format as long as you wish so.
Feature: By using the "-s"-parameter, the CloudDownloader can be started from commandline into searchmode.
Feature: If a download breaks or no songs are found, an error dialog will be shown. Here you can send me the error with just one click, so that I can fix it faster.
Feature: After use of the program, a small request on my part appears.