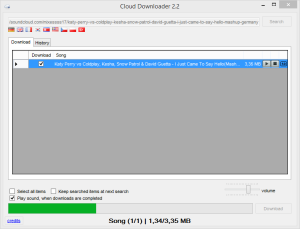 The last release of my Cloud Downloader was round about one and a half year ago. But since then there was no solid ground to release a new version. The Cloud Downloader worked flawlessly since it's last release and also there were no noteworthy feature requests.
But in the last two days I got several mails and comments telling me that the Cloud Downloader stopped working. So I opened my IDE, stepped into the code, started debugging and worked on a bugfix. And what should I say – here it is!
Today I've released the new Cloud Download 2.2 which got some bugfixes and one, simple new feature.
Changelog (Version 2.2):
Bugfix: Search- and download functions got repaired.
Bugfix: The downloader doesn't crash any longer, if you try to sort the empty search result grid.
Feature: The "Download ready"-sound can be deactivated.
Refactored: New implementation of the settings/config methods. Less files and more stability.
Refactored: Reworked the update check.
I hope you like the new release. Please leave some feedback or hit the "like"-button.