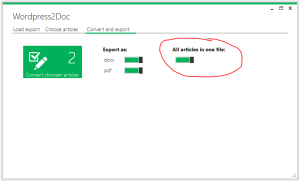 Today, there is again a small software update. Since yesterday, namely the new version (1.2..0.0) of my software "WordPress2Doc" is available for download. In addition to a bug fix also two small new features are added.
For those who can not remember what WordPress2Doc is good for ot those who are new in the "code-bude.net"-community, I'll explain the benefits of Wordpress2Doc in a few words.
With WordPress2Doc you can save any (as well as many) articles and pages of a WordPress blog as a Word document (.docx) and as a PDF file. So with WordPress2Doc you can, for example, back up your blog posts, print and prepare them for other use cases.
What's new in WordPress2Doc 1.2.0.0
The following things are new in the latest version of WordPress2Doc:
Bugfix: WordPress2Doc can handle and save blog posts with any character sets. (So far only latin character sets were fully supported.)
Feature: On request all selected items can be exported in a single file. (Previously, each post has been exported to a separate file.)
Language: Persian / Farsi was added as a language
Language: Hebrew has been added as a language
The source code and the downloadlink of the current version can be found in the WordPress2Doc main article. Get there by clicking the following link:
Furthermore, I am looking forward to your feedback and suggestions. If any of you speak a second language and want to help me with the translation of WordPress2Doc, I would be very thankful. A Word document with the translatable words and phrases is also located in the main article.