In the previous article I have explained, how you can set up your domains, which are rented from Namecheap.com, for use with DynDNS (Dynamic DNS). In this article, we will focus on how to configure your Fritzbox, so that it always sends the current IP to the Namecheap DynDNS interface.
While this also possible through various clients for PC or MAC, I find the configuration with Fritzbox particularly attractive, because it is anyway running around the clock and thus no PC or MAC unnecessarily consumes more power.
(Who prefers a Raspberry Pi over a Fritzbox, should read this article here.)
Set up Namecheap DynDNS in the Fritzbox
Log into the webpanel of your Fritzbox. This should be normally accessible by navigating to http://fritz.box or http://192.168.178.1  in a browser of your choice.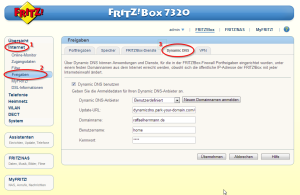 Now navigate to the submenu item "Shares" in the menuitem "Internet". There you have to open the tab "Dynamic DNS".
Enable the input fields by checking the box "use Dynamic DNS". Now you have to enter the data from your Namecheap domain. I use the following data / information from the previous article.
The fields for the configuration you have to fill out as follows.
Dynamic DNS provider: Custom
Update-URL:
(The bracketed placeholders in the URL are intended. They will be filled out by the Fritzbox automatically.)
dynamicdns.park-your-domain.com/update?host=<username>&domain=<domain>&password=<pass>&ip=<ipaddr>
Domainname: raffaelherrmann.de
Username: home
Password: [the DynDNS password from previous article]
When all fields are filled, one click is enough to take over. Now your domain should be supplied by at least every 5 minutes with the current IP of your internet connection.