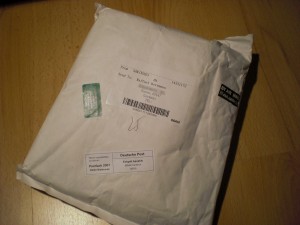 Today I received the long-awaited package – but but let's take one thing at a time…
For some time, I am the proud owner of a
Samsung Galaxy S2
. And so my beloved smartphone even longer remains such beatiful, I bought a whole bunch of accessories on Ebay some weeks ago. Actually I just wanted a case, but I'm a penny pincher and therefore I ordered the
following package
. (For the case, that the link doesn't work any longer, I have even made you
a screenshot
.) The package contained the following items:
3x protective foils
1x car charger
1x USB connection cable
1x car mount (with suction cup)
2x styluses (of course for capacitive screens)
4x silicone soft cases
1x silicone case with built-in stand
1x rubber case
1x flipcase (a "cover with lid")
1x wristband with pocket (e.g. for sports)
2x batterys
1x battery-pack charger (including USB port to parallel load your smartphone)
If you can not imagine what every part of the package is for, it's not so bad. I have added some photos of the package and it's parts.
But now a few words about the price and the quality. € 18.99 or correctly € 27.98 for all parts (including shipping) is a really nice price. Although I'm a little bit suspicious for purchases of goods from Hong Kong (no matter if on Ebay and other sites of this region), I was pleasantly surprised. The package was delivered exactly 7 days after payment to my apartment. Airmail delivery for 8,99 € – that's definite cool. Even I hadn't to pay customs. That is impressive and I think at this point I would also like to recommend the androidcellphone shop hereby.
The quality is, measured by it's price, more than reasonable. The batteries deliver what they promise on their cover (1800 mAh), the silicone cases are fitting nearly perfect and the charger also functions properly. Only the flipcase has not 100% clean seams and the clip system of the car mount is minimal unfirm. The styluses are working perfectly, however they are not more accurate as the input with your finger. Here you should just make this clear to you, that these styluses are being considered more for winter use with gloves, as for use as a graphic designer input device.
But, as I said, the majority of the products is really good processed. If you have a look for the prices at your local dealer, in the case you want to buy only a spare battery or a car charger for example, you'll see that the price of € 18.99 for the whole ebay package is really unbeatable.
For my part I would definitely buy another smartphone package any time.
Now it's your turn. What do you say to my snap?
Best regards,
Raffi