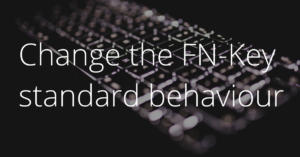 Today there is once again a short tip – this time for all owners of Logitech keyboards with a FN-key. Some time ago I was looking for a new keyboard. Criterion: Parallel usage of several devices – usually via Bluetooth. In the end the choice fell on the Logitech K375s. Stylish design, support for up to 3 devices that can be connected via Bluetooth or Logitech Unifying receiver. Only one small problem remained: the FN key.

No products found.
By pressing the FN key, the second assignment of individual keys can be activated. For example: You can control the volume by pressing the F12 key while holding down the FN key. So that's the way I would prefer it at least. In practice, the FN key is active the whole time. Which means – press the F12 key to change the volume and if you want the real F12 behaviour, press FN + F12. Since I use the F-keys regularly, this behavior is exactly reversed from the wanted one. Yes, there's a software from Logitech, called
Logitech Options
, which allows to switch the behavior, but it does not run under Linux. (I'm on Linux for some months now.) For Linux there is
Solaar
, which shall be a replacement for Logitch Options, but in turn it does not offer the FN key option for the K375s keyboard. And the solution?
Change the default setting of the FN key
If you are searching the web, you'll get tips from software, via github projects and BIOS adjustments, to shell scripts, but the solution is so much simpler.  And in addition, the solution works without any additional piece of software. If you press the FN key and ESC at the same time, the K375s will change the default behavior. Thus, the F-keys can be used again as usual.
I could test this solution only with my Logitech K375s. If you have other Logitech keyboards (or keyboards from other manufacturers), where this key combination also works, let me know in the comments. Maybe we can bring together a list of all supported keyboards.