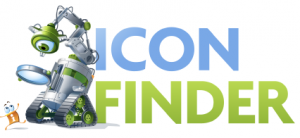 Today I want to introduce to you three websites that I use for my programs as well as for my work here on the blog frequently. Have you guessed what it is? No? It comes to icons. Such as they are in almost every beginning of my blog articles.
I got all these icons more or less from three portals on the net. Of course completely legally and free of charge. And how that goes, I do not hide from you.
The three sites at issue are the following:
All three sites are built up similar. They not only offer you a total of over 650,000 different icons, but beyond this, also the possibility to sort the icons by their type of license.  This allows you for example to search only for icons which can be used commercially, or even on with or without setting up a backlink to the icons author.
If you have you found an icon that you like, you can download it in different sizes and in different formats such as. .png, .ico or .gif. Also the background of the icon image may be selected. You can choose between black, white and transparent background.
All in all, these three pages are in most cases my source for graphics for my blog articles. Do you use these or similiar sites, too? Do you know maybe even a few other good portals? Just drop me a comment if you still have any suggestions or tips.