When working with the ALV (ABAP List Viewer), the records/result-set displayed can be exported in various formats including those for spreadsheet programs.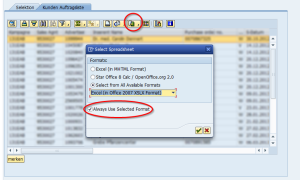 If you use this feature more often and always export your data into the same format, there does exist an option called "Always Use Selected Format"  in the spreadsheet-export-dialog. If you check this option after selecting an export format, so in subsequent exports always the specified format is preselected and you won't see the format selection dialog anymore.
However, if you would like to change the format or want to get asked for he format again before every re-export, most users recognize that it isn't such easy to revoke the "Always Use Selected Format" option.
Option 1 – performed by the user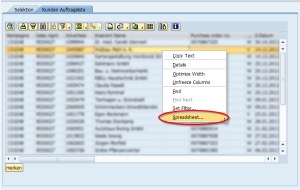 If the user like to get asked again for the export format, so it's enough to right-click on any row of data. Now, in the context menu, he has to select the item "Spreadsheet…". This opens the selection dialog, where he's able to remove the "Always Use Selected Format" option.
Right-click on any row in ALV
Click "Spreadsheet…" in the context menu
Uncheck "Always Use Selected Format"
Option 2 – run by an admin or user with sufficient privileges
The second approach makes a remote-hand reset of settings possible, so that the user does not have to be on site.
Using transaction SE38 (ABAP Editor), the program "SALV_BS_ADMIN_MAINTAIN" must be called. Then the "User-Specific Settings for SAP GUI ALV" option must be selected. After that run the progam (e.g. by pressing F8).
Now you get a list of all users who have selected a default export format. To reset the settings for one user, select the row which belongs to the user and then delete it by clicking on the trash-icon. If necessary, the user has to re-call his transaction before the new settings will work.
SE38 -> run program "SALV_BS_ADMIN_MAINTAIN"
Select "User-Specific Settings for SAP GUI ALV" and start the program (F8)
Select user in the table, highlight his row and delete row by clicking the trash-button
Missing authorization object "S_ALV_CSUT"
When using the second option, it may occur an authorization error. This error, if it comes up, shows the text "missing authorization object S_ALV_CSUT" while trying to execute the SALV_BS_ADMIN_MAINTAIN-report. Do the following steps to solve this issue.
Run transaction code SU01
Choose "Info. –> Information System" from the menu
Execute the structure path "User Information System –> Roles –> By Authorization Object"
Search for "S_ALV_CSUT"
As a result of step 4 you should see a list with one or more roles which contain the authorization object "S_ALV_CSUT". For our example this would be the role "SAP_ALV_ADMIN". To solve the authorization problem just add this role to the user by using transaction code SU01.