For over three years I'm a user of Android smartphones. At first with Motorola Defy, then Samsung's Galaxy S2. What both of these devices have in common, is the fact, that both were not running the original ROM for a long time. Too much trash, too much unnecessary, pre-installed software and really to less updates.
Both devices got the CyanogenMod-ROM, one of the most famous mods for Android devices. And because I like to be up to date and also like to try out experimental features, I flash my Samsung Galaxy S2 regularly with the so called nightly builds. (Nightly-Builds = daily updated version directly from the developers. Bleeding edge but not always 100% stable.)
No products found.
With the latest CyanogenMod version (10.1), two features have disappeared, so far. On the one hand the possibility to use the phone as a mass storage device on your PC and on the other hand menu item "Developer options" is hidden. Both features are still locked but can be used yet gentle, and how to do it, I want to show you.
Unlock developer options and USB debugging on CyanogenMod
To activate the developer options menu item and thus activate the menu item for the USB debugging, you have to open your phone's settings menu. Then navigate to the "About phone" settings page.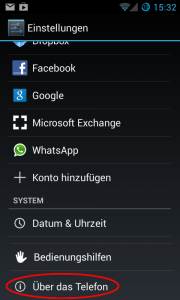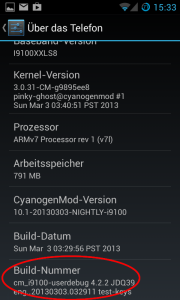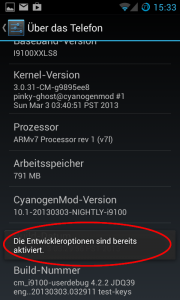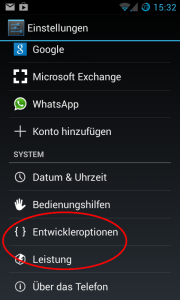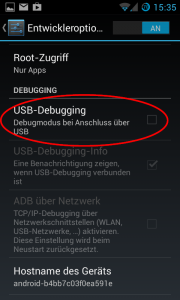 There you will find a sub-item called "build number". If you click 7 times on the build number item, the developer options will be unlocked. After successful activation you will find the item developer options in the usual place in the Android settings menu.
Unlock USB mass storage on Cyanogenmod 10.1
To activate the USB mass storage function, you need an app called "USB mode switch for SGS1 on CM". Don't be put off by the name – I have tested the for my Galaxy S2.
The main interface of the app has only one button, which allows you to switch between the both USB modes (MTP and Mass Storage). After changing the method, you have to restart your phone before you can use the USB mass storage function.
If you have successful tested the app on other devices than the Galaxy and the Galaxy 2, let me know it in the comments, so that I can add a small info to my blogpost.