The following post maybe is a little bit more directed on the german readers over at code-bude.net, but correctly I add a translation also for my international readers. Spelling correction is everywhere. Not matter if you use Microsofts Word, your smartphone, your mobile or your webbrowser of choice. Each of it brings its own spellchecker with it.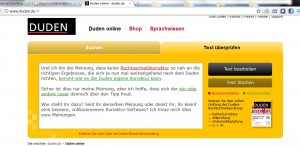 The problem is, that the German language, especially the German grammar, is more or less complex compared to a lot of other languages. So the most of the correction software doesn't work quite well. However one, which works really good, is the one from Duden, the german standard reference spelling directory.
So if you maybe are learning the German language or want to be on the safe side, you could use the Duden spellchecker. The amazing thing about the Duden software is, that they provide you a free online check. Thus you aren't forced to buy the whole software suite and nevertheless you can benefit from the features of Duden correction.
If you want to give it a try, go on http://www.duden.de/rechtschreibpruefung-online. The only disadvantage of the online version of the checker is the fact, that it cuts long texts down. So if you have a longer text, you have to let the app correct it in multiple pieces.