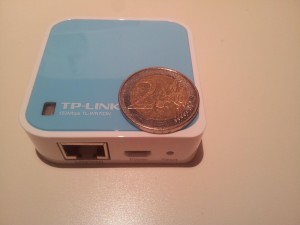 For one of my projects I was looking for a router that runs OpenWrt. But the all time classic of these type of routers, the Lynksys WRT54GL, is definitely too expensive in my opinion and so I searched a for a cheaper alternative. And I found it.
The TP-Link WR703N is a really small router, which can be powered by USB and also can be flashed with OpenWrt.
An unbeatable argument for the TP-Link is in my opinion the price. So I think you will rarely find a new OpenWRT compatible router for less than $20. I bought mine on eBay for ~22$ including shipping, but at the moment the US prices are a little bit lower. I also added some pictures from the unboxing at the end of this blog post.
Where can I buy the TP-Link WR703N?
21,00$ at […]