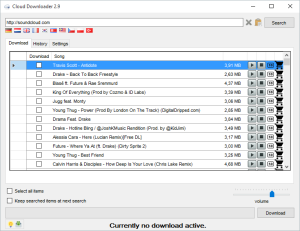 This is the home of the "Cloud Downloader" (formerly known as Soundcloud Downloader"). Here you will find the downloadlink, can write me comments and feature wishes, say thank you and maybe, if you really like the software, send me some bucks.
For all those who do not know the Cloud Downloader, I have included a short video below this paragraph. If you don't like videos – no problem – the idea behinde the Cloud Downloader is explained in a few words.
You start the Cloud Downloader, add a link which points to any songpage on soundcloud.com and click on the search-button. After that the Downloader shows you all available songs and you can choose if you like to listen to them or download them with another click, without any fuss.
Features
Download every song […]