Over the last few years, the topic of VPNs has become more and more important. At least that is my personal feeling. Whether for daily surfing or as a sponsor for almost every second YouTuber – VPN providers are now continuously running across our path. Reason enough to test one of these providers again.
Today's article is about Privado. First of all, to pay tribute to the idea of transparency: I received the account used for the test from Privado free of charge for 30 days. I did not receive any further compensation. Before we start with the actual test, let's take a quick look at the topic "VPN". If you already know what a VPN is for and what advantages/disadvantages it has, you can skip the following paragraph.
Why VPN?
First, let's look at a definition. Wikipedia says…
A virtual private network (VPN) extends a private network across a public network and enables users to send and receive data across shared or public networks as if their computing devices were directly connected to the private network.

https://en.wikipedia.org/wiki/Virtual_private_network
A VPN is therefore a way of exchanging data in a private context/network, even if access is via a public network. In short, a VPN allows you to access your local, private home network from anywhere in the world via a public Internet connection, as if you were at home in your own local WLAN/LAN. And all this without anyone being able to read the data traffic.
When does the use of a VPN make sense?
But who really needs a VPN? There are several use cases here. I would like to briefly introduce three of them:
Access to the company network from home; In times of Corona/Covid 19 and the accompanying change (away from the office and towards the home office), most of the readers of this blog are probably familiar with this case. In order to access the company's servers and applications from the home office, one connects to the company network via VPN. The VPN infrastructure and software is provided by the employer.
Access to the local home network; If you travel a lot or are often away on business, you may also be familiar with this use case. Nowadays, almost every WLAN router, whether the high-end Fritzbox or the Speedport crutch from Telekom, comes with the option of setting up a VPN. Once set up, you can securely connect to your home network from almost anywhere in the world via the Internet and thus protect your data traffic on the one hand and also access your local devices such as your NAS, IP cams, etc. on the other.
Anonymous surfing via a public VPN provider; In contrast to example (1), which usually only allows business use, and example (2), which requires that you are technically experienced enough to set up your own VPN and that you always route the data traffic via your own public IP address, example (3) is another alternative. In this case, the VPN infrastructure and software is provided by the respective VPN provider. Since you are connecting to the network of the VPN provider, the possibility to access other devices of your home network (see example (2)) is naturally omitted. This also affects the core purpose of category (3): Anonymous or secure surfing.
When do you need a (public) VPN?
Public VPN providers (see category (3) of the previous paragraph) promise to ensure that the user's own data traffic is routed via a secure, anonymous network in order to surf the Internet as "trace-free" as possible. In addition, many of the providers offer a choice of different VPN locations, so that, for example, you can also use a VPN in America, i.e. surf with an American IP address, and thus gain access to websites/services that would otherwise be inaccessible from your own country due to geo-restrictions.
Especially the latter (bypassing geo-blocks) is a popular argument for VPNs in the bargain community. In addition to services like Hulu, for example, which is not available from Germany or only available to a limited extent, there are also many services that simply cost less abroad for the same performance. If a German user currently pays ~€12/month for YouTube Premium, the same offer only costs Argentinians around €1.60/month. Bargain communities such as MyDealz are always looking for deals like this. Using a VPN with location Argentina, a German user could now also get a subscription for under 2€/month. Legally, this is certainly not astrein and also morally certainly worthy of discussion. Therefore, the last paragraph should not be understood as an incitement to implementation, but much more as a clarification of the state of affairs.
Test criteria and results of the VPN test
The second part of the article will now deal with the test of the public VPN provider Privado. Before we take a look at the test results, however, we first want to determine which criteria should be used for testing and evaluation.
Choice of locations & services; How many countries are available for VPN use? Which VPN protocols are supported? Are there additional services?
Availability & user-friendliness of clients; For which hardware/operating systems are clients available? How simple/clearly designed are they?
Speed test; How high is the performance of the VPN connection? How do different locations perform in relation to a direct (=without VPN) Internet connection?
Security; What about security and data protection?
Price/performance ratio; How does the offer compare to the direct competition?
Let's now look at Privado in terms of the above criteria, starting with the selection of locations and services.
Choice of locations & services
Currently Privado offers VPN servers in the following 45 countries:
Argentina, Australia, Austria, Belgium, Brazil, Bulgaria, Canada, Czech Republic, Denmark, Finland, France, Germany, Greece, Hong Kong, SAR China, Hungary, Iceland, India, Indonesia, Ireland, Israel, Italy, Japan, Korea (South), Latvia, Lithuania, Malaysia, Mexico, Netherlands, New Zealand, Norway, Poland, Portugal, Romania, Serbia, Singapore, Slovakia, Spain, Sweden, Switzerland, Taiwan, Republic of China, Thailand, Turkey, Ukraine, United Kingdom, United States of America
These include European countries such as Belgium or the Netherlands, but also many locations in Asia such as Taiwan or Hong Kong. In any case, the selection is impressive.
The list of offered services and VPN protocols is just as diverse. Privado offers the two VPN protocols OpenVPN and IKEv2/IPsec as well as a large number of SOCKS5 proxies. These can be entered as application proxies directly in any applications with SOCKS5 support, such as (S)FTP clients, P2P apps or web browsers. Using the SOCKS5 proxies, the IP address can be specifically masked when using individual programs. (Note: Only the IP address is disguised here, but not the entire traffic is encrypted. Although this offers speed advantages, especially for streaming and downloads, it should not be used to secure all data traffic).
Client availability & usability
When setting up and using the VPN connection, you have the choice between Privado's own VPN clients and using your own/user-defined VPN client. Privado offers its own clients for the following operating systems:
Windows
macOS
iOS
Android (in the following flavors: native, for Amazon's FireTV Stick and for Android TV)
Alternatively, Privado also provides the connection data for OpenVPN or IKEv2, so that you can set up the VPN connection on any system that offers a client for one of the aforementioned protocols. To support the setup, Privado provides a list of instructions for pfSense and DD-WRT routers, among others.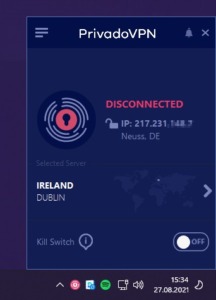 For my test, I looked at both the Windows and Android clients. Both are almost identical in terms of structure and user interface (UI). The screenshots below are from the Windows client.
After installation, the client presents itself with a clear UI, which on the one hand displays the VPN connection status (Disconnected/Connected) as well as the current public IP address and on the other hand allows the selection of the target country for the VPN connection.
In addition to these two core functionalities, the so-called "Kill Switch" is hidden at the bottom of the client. If this is activated, the Privado client cuts the entire Internet connection as long as there is no VPN connection.
What is this good for? Let's assume we are in an insecure network such as a public/non-encrypted WLAN. If the connection to the VPN should break at some point while surfing, our data traffic would be at risk due to the lack of security of the Internet access point. The kill switch would step in and block all traffic until the VPN connection is properly re-established.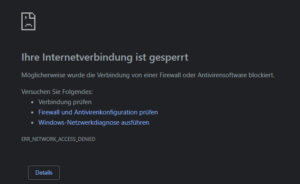 The "Kill Switch" feature is certainly not needed by everyone, but if you really need it, the "Kill Switch" really does a good job. During my tests, I was able to convince myself of the Kill Switch's functionality.
If the VPN connection is interrupted and the kill switch is active, the error message shown on the right appears in the Chrome browser, for example, indicating that the Internet connection is currently (actively) blocked.
The account can be managed and the VPN protocol (OpenVPN or IKEv2) can be specified in the settings, which are hidden behind the button with the three dashes in the upper left corner.
However, there is not much more to discover in Privado's VPN clients. They are simplicity and user-friendly in any case. As an IT guy (others would say nerd), however, I would like to see a bit more information and setting options. At the very least, I would have expected access to a log file/connection log. To be honest, I have to admit that I probably don't represent the majority of users. (Especially since the OpenVPN connection data is available and I could also use the official OpenVPN client instead, which offers all that…).
Speed tests
Now we come to the test criterion "speed" – because what is the point of all the nice security if Internet access is yawningly slow? (Right, nothing. Well, at least no joy).
In order to assess the speed, I performed several speed tests on speedtest.net. First, let's take a look at the reference value, i.e. without VPN enabled.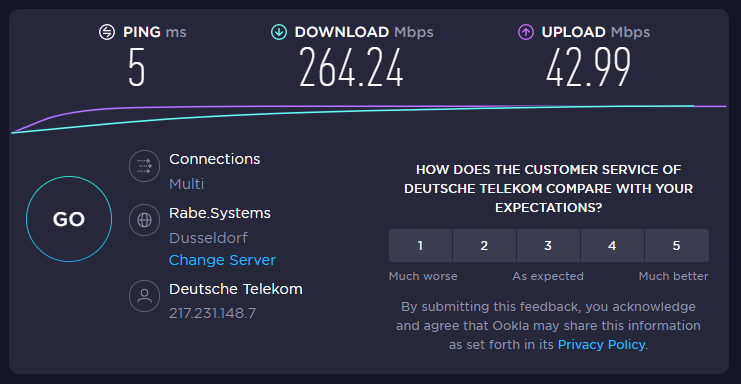 Without VPN, I always got ~260 Mbps in download and ~43 Mbps in upload in my tests. This also corresponds reasonably closely to the 250 Mbit line that I booked with Telekom. For the speed tests with VPN, I chose three different locations: Netherlands, Singapore and Taiwan. The goal was to test servers that are physically very close to my location as well as those that are located very far away.
As the distance to my location (Düsseldorf, Germany) increases, the transfer speed decreases, but I did not expect anything different. All in all, the values for a fairly inexpensive VPN (more about this in the "Price/performance ratio" section) are impressive.
Security
Now we come to one of the core issues and the Achilles' heel of VPNs: security. In addition to concealing one's own location, one of the primary goals of VPNs is also to conceal the actual user data/behavior. At the same time, it is also the most difficult point to test.
Since I am not a public prosecutor or an international investigative agency to request a data handover on a trial basis, I have no choice but to take the provider's promises at face value. What is the saying? You can only look people in the face.
Here's what Privado promises in terms of security:
Swiss Headquarters (Why Switzerland?)
No-Log Policy (no user logs are created)
Kill Switch (If the VPN connection drops, the Privado client cuts the internet connection completely).
If, and only if, all of this is adhered to, we can say that this is a "secure" VPN. Whether this is the case, we will only know in the end, when the first time someone operates fraud and it really comes to a request for data by a government agency. At least I couldn't find any negative press/blogs/forum posts about this so far.
Price/performance ratio
Now let's move on to the costs. PrivadoVPN currently offers the following two pricing models:
Free-Tier: 0$/month
Premium-Tier: 4,99$/month
Now let's move on to the costs. PrivadoVPN currently offers the following two price models:The main difference between the two models is that only one device, only 12 server locations and no Socks5 proxies are available in the free tier. However, the free tier is easily sufficient to test the offer without obligation.
In order to evaluate the price/performance ratio, let's take a look at the offers of larger competitors. Since the offered packages have almost the same scope of services, I have only listed the main differences next to the prices.
NordVPN Premium: 4,83$/month

Up to 6 devices simultaniously
No Socks5-Proxies

Tunnelbear Premium: 3,33$/month

Up to 5 devices simultaniously
No Socks5-Proxies
In a direct comparison, PrivadoVPN thus turns out to be the most expensive provider, albeit the one with the largest scope of services at the same time. Thus, the price can be described as justified/fair. Whether PrivadoVPN's package is worth it for you personally, however, ultimately depends on whether you really need the simultaneous use of 10 devices or the Socks5 proxies.
Other notes
Finally, one more thing that I noticed during my test and personally disliked a bit. On the PrivadoVPN website, there is a bar at the top of the screen that displays the user's IP address and suggests that they are unprotected. The whole thing looks like this.

In principle, I understand the idea behind it. "If you had PrivadoVPN, we wouldn't know that you are from XYZ. See VPN is important!" The point of this is, if I use another VPN provider, set Nepal as the location there, and then surf PrivadoVPN, it says Nepal as the location and still says "Exposed" even though I'm not. Because I'm still sitting with my coffee, in front of my laptop in Meerbusch/Düsseldorf. So the display does not show if you are "Exposed" (aka visible), but if you are surfing via PrivadoVPN or not. Because only from the PrivadoVPN switches the display.
An ad/commercial in this style can be done this way, but in the end, at least to me, it seems a bit shoddy. Come on, guys and gals from PrivadoVPN, you can do better than that, right? ?